Sanatorium Iveria Tskaltubo
THE ABANDONED SANATORIUM IN GEORGIA
They started building 'Sanatorium Iveria' in 1952. Works finished almost ten years later. This Stalinist architecture sanatorium in Tskaltubo was sold to a Russian investor in 2017.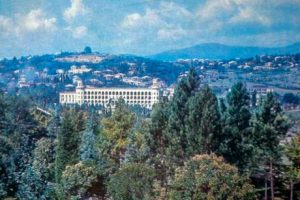 When Georgia was part of the Soviet Union, the state guaranteed its workers the right to rest. As a result, more than 180 health spas were built, where the working class could re-energize on a two-week, state-sponsored vacations.
Tskaltubo was one of those spa resorts on the so-called Russian Riviera. Eventually, construction on its 22 sanatoriums began in the 1920s, and by the 1980s, trains drove in daily from Moscow. Each year, hundreds of thousands of people bathed in its radon-carbonate springs that in essence could cure anything from eczema to infertility.

The 'Iveria' sanatorium was built between 1952 and 1962 and was designed by M.M Buz-Ogli. The sanatorium was built in the center of the city with a capacity of 300 beds.
According to an online Georgian news site, the sanatorium was sold in 2017 for a little over 100 thousand US dollars. In fact, there are plans to re-open the Iveria as a hotel at some point in the future. Although the sale specified that the investor should fund the construction of a 160-room hotel on the site, producing jobs for 80 people. I visited the 'Sanatorium Iveria' in 2019.