Sanatório Santa Maria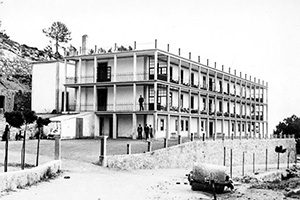 Caramulo, Portugal
Built in 1926
Abandoned in 2000
Visited on 10 2017
This abandoned Santa Maria Sanatorium is located on the south slope of Caramulo mountain, an old health village in Portugal. The lung hospital was built in 1926.
After the Second World War, that European lung hospitals should be well-exposed to sunlight. Creating ideal conditions for the treatment of diseases like tuberculosis or Vitamin D-deficiency. Because of this vision this sanatorium was built in a straight line with many terraces, wide balconies and open galleries. Later a new wing was added to the ground floor to house more patients.
Improvements in sanitation, vaccination, and antibiotics significantly reduced tuberculosis. As a result this sanatorium had to close down.
Photos Sanatório Santa Maria