Pałac w Bożkowie
THE ABANDONED CASTLE IN POLAND
'Pałac w Bożkowie' is a historic palace from the 16th century. It was built by Count von Magnis in the Polish village Bożków in the Lower Silesia Province. Today, the castle has fallen into a derelict state.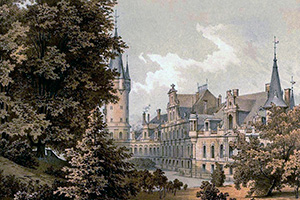 From around 1520 the property in Bożków was owned by the von Raueck family. After the Czech-Palatinate War (1618-1624), the property was confiscated and handed over to the Emperor's physician, Caspar Jäschke von Eisenhut. Then it passed into the hands of the local Jesuits order, who sold it to Johann Georg von Götzen. He expanded the castle and significantly. After the childless death of the last male descendant of this family, the estate passed in 1780 to the son of one of his sisters, Count Anton Alexander von Magnis.
Reconstruction
The palace in its present shape was built in 1787 from the reconstruction of an earlier building. On the north side, in 1800, a park and a forester's lodge were built. In 1813, an observation tower was erected on the Grodziszcze mountain. The last reconstruction of the palace took place after its great fire in 1870. The palace was rebuilt in 1871, and it became a baroque castle with both a huge tower on the north-east side and a second, smaller tower on the north-west side. The complex has three stories and is built on a circular plan. In the central part of the main wing, the walls of the old complex have been preserved. In 1930 the façade was rebuilt. The property belonged to the von Magnis family until 1945.
There were many famous guests who visited the palace in Bożków. There were, among others, John Quincy Adams, the later President of the United States, and the kings of Prussia Frederick William III Hohenzollern with his wife Luisa and Frederick William IV Hohenzollern.
School
After 1945, the palace became the property of the state treasury. For many years it housed various agrotechnological schools. In 1973, the palace underwent a major renovation, and later, in 1979 restoration works were carried out in the rooms on the first floor. It eventually became an official monument in 1981. Nevertheless, at the end of the 20th century, the building fell into ruin.
Currently, the interior of the palace is seriously damaged. The castle is for sale, for 6.7 million Polish Zloty you can have it. I visited the castle in 2020.