NPEA Ballenstedt
THE ABANDONED SCHOOL IN GERMANY
This 'Schulungszentrum Großer Ziegenberg' in Ballenstedt is a complex of buildings that has been a school for two political systems in the 20th century. First it was a NPEA Anhalt in Nazi-times. During the DDR times, it was a political school for the Sozialistische Einheitspartei Deutschlands.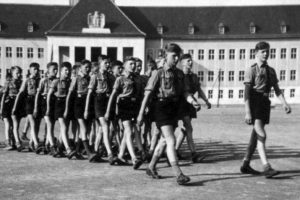 The schooling complex was built secluded in the forest on the outskirts of Ballenstedt in 1934. From 1936, the Napola, or NPEA was housed there for nine years. NPEA, commonly called Napola, stands for 'Nationalpolitische Erziehungsanstalt Anhalt'. It was one of the 39 boarding schools of the Nazi Party. In this elite facility, more than 350 students were taught to be loyal National Socialists. Before each meal, hands, fingernails and hair were checked. Students had to sit down on the tables as quietly as possible, with the right hand under the chair. In 1945, with the end of the Third Reich, the school was closed.
Bezirksparteischule
In DDR-times, during the Cold War, the school was used by the Sozialistische Einheitspartei Deutschlands. The complex was named 'Bezirksparteischule Wilhelm Liebknecht'. The school had the task to train junior staff to become potential leaders in the DDR party. During their studies in Ballenstedt, students received 80% of their previous salary as a scholarship.
The buildings were strictly sealed off. It was a fenced and guarded campus, which could only be entered with the right documents. On the premises there was a café, clubhouse, restaurant, bookstore, a hairdresser, and sauna.
Today, parts of the area, such as the tower house, are owned by an Austrian investor. The remaining buildings are the property of the city of Ballenstedt. Since the mid-1990s, the school is a protected building. The site has been abandoned since 1990, only the former dining room is in use as a sports hall for the local table tennis and karate club. I visited this location in 2014.