Huta Szkła Lucyna – Zakład Nysa
THE ABANDONED GLASSWORKS IN POLAND
This is the former Nysa factory, belonging to the glassworks 'Huta Szkła Lucyna' in Pieńsk. The neo-Gothic buildings were built in the early 1900s and abandoned in 2007.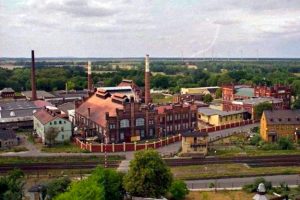 Pieńsk is a small city in southwestern Poland. In the second half of the nineteenth century, the town became a center of the glass industry. The first smelter was built in 1858. Pieńsk was one of the largest centers of the glass industry in Europe, created on the basis of existing glacial sands, as well as resources of wood and brown coal.
Temperature resistant glass
The factory was built in 1886, when the 'CH Schubert & Co' glass works was founded by industrialists Schubert, Roder and Patzler. In 1903, Schubert & Co merged with the Putzler brothers factory. This 'Gebrüder Putzler Glashüttenwerke' was built by Oskar and Edmund Putzler. The new formed glass works was specialized in the manufacture of light shades. In detail, the factory was famous for its temperature resistant glass for petroleum lamps. The characteristic neo-Gothic buildings were built in the years 1900-25.
Huta Szkła Lucyna
Before the First World War, approximately 850 employees were employed in the mill. After both World Wars, the glass works of the Putzler brothers merged with 'Peill und Sohn' to form 'Peill & Putzler Glashüttenwerke'. Thereupon, the production was moved to Germany. Meanwhile, the factory was taken over by a Polish investor and changed it name into 'Huta Szkła Lucyna'.
Due to the modernization and automation of the glass industry, the company eventually couldn't keep up with the competition anymore and went bankrupt in 2007, after various reorganizations. The protected buildings were bought by the city and will not be demolished. I visited the derelict glass works in 2019. More glass related locations can be found here.