Cokerie de Marchienne
THE ABANDONED FACTORY IN BELGIUM
'Cokerie de Marchienne' or 'Cokerie de la Providence' is the abandoned Cokes factory in Marchienne-au-Pont, near Charleroi. The municipality straddles both banks of the river Sambre in an area marked by industrial activities. The coal mining and steel industry nicknamed the region 'Pays Noir' or Black Country.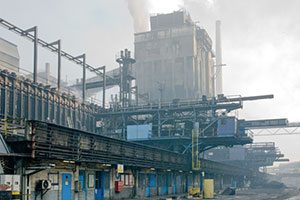 The origins of the most famous coke plant in the city of Charleroi dates back to 1838. Because in that year a coke-fired blast furnace was established along the river Sambre by the newborn company 'Forges de la Providence'. Although coke ovens were present on site since the beginning, a first modern coke plant was established in 1908 to support the three existing blast furnaces.

The two coke plants used to work side-by-side until the early 1950s, when the older one was dismantled and the newer improved. Eventually the newly rebuilt cokes plant became one of the biggest of the country. 'Cokerie de Marchienne' was expanded in the 1980's when more ovens were added. The plant had an overall capacity of 750 thousand tons a year of metallurgical coke obtained in 122 ovens.

In the 1990's the plant couldn't live up to the environment rules. In fact the site was heavily polluted and the coke-making process led to many complaints of the people living in the area. The cokes plant was closed in 2008. As a result 250 employees lost their job. You can also see my report of the powerplant and the blast furnace on this site. I took these photos of 'Cokerie de Marchienne' in 2011 and 2019.