Terres Rouges
THE ABANDONED FACTORY IN LUXEMBOURG
The Terres Rouges was a big entity of the iron ore industry in Esch sur Alzette in Luxembourg formerly called ARBED, and now part of the Arcelor/Mittal Group.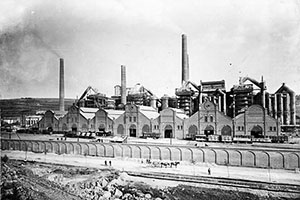 The history of the site began in the year 1870 when the authorization was given to start the construction of two blast furnaces on the 'Usine Brasseur' site. As a result the 'Société des Hauts-fourneaux Luxembourgeois' was born. In 1872 the first iron ore furnace was heated. Ten years later, the iron works was upgraded to produce steel. The steel industry in the region flourished and as a result Luxembourg became one of Europe's largest manufactures of steel.

In 1919 the 'Société Métallurgique des Terres Rouges' was formed. In 1937 ARBED has taken over the factory. The furnaces in Esch sur Alzette were closed by ARBED in the year 1977. The halls were sold to several companies, but eventually everything was abandoned in 1995. Consequently many halls were demolished. During my visit the iron-ore silos and the power station are still there, abandoned and in a bad condition. Finally the last structures were demolished in 2020. I took these photos of 'Terres Rouges' in 2008.