Palacete do Conde de Sucena
THE ABANDONED HOUSE IN PORTUGAL
'Palacete do Conde de Sucena' is an abandoned house in Portugal. It used to be a beautiful manor house with many architectural details.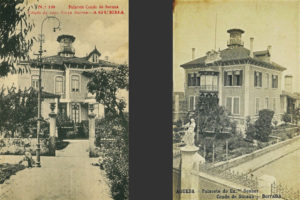 This is the one of the many buildings owned by the Count of Sucena. The count, named José Rodrigues de Sucena, was born in 1850. He died in 1925. This manor house was built close to the farm his family owned.

The house has many big rooms with very impressive ceilings. Rich of ornaments and other details. Another beautiful detail were the azulejos tiles covering the side of the house. The word azulejo has Arabic roots, meaning 'small polished stone'. On the main façade, there used to be a pediment that supports the family's weapons and a closed hexagonal veranda entirely built in metal and glass. The entire property is bordered by a wall that protects the exotic garden from the public.

After the property passed into the hands of the 2nd Count of Sucena, the house got profound changes due to the personal taste of the new owner. It was rebuilt with a simpler to contemporary taste. The photos of the 'Palacete do Conde de Sucena' were taken in 2018. You can see more Portuguese abandonments here.