Hallenfreibad Südpark
THE ABANDONED POOL IN GERMANY
Hallenfreibad Südpark is an abandoned pool complex with both indoor and outdoor pools. It is situated in the west of Germany in the city Höntrop. The future of the pool is uncertain.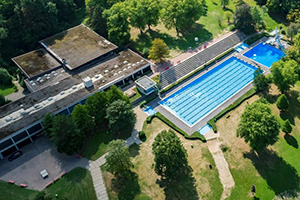 The complex has three indoor pools, one large swimming pool, one pool to play and a children's pool. Outside is a 50-meter-long pool with a unique 10-meter-high diving platform.
The pool was closed in 2012 during the transformation into a sports-friendly leisure pool. Part of it should be converted into a non-swimming area. The diving pool and diving tower will remain part of the facility. Also, a beach volleyball court and a children's play area are planned.
The new pool concept was approved by the city without public participation. Numerous protests were the result. Locals asked to preserve the swimming pool. In the meantime, the association 'Freundinnen und Freunde des Hallenfreibads Höntrop' have almost 9 thousand supporters of the petition to save the complex. I visited the pool in the summer of 2020.