Grand Moulins de Paris
THE ABANDONED FLOOR MILL IN FRANCE
---
'Grand Moulins de Paris' is an abandoned floor mill in Marquette-les-Lille, France. After 40 years of abandonment, the building is reconverted into apartments.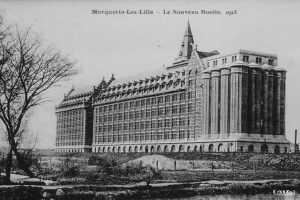 During the First World War France was faced with the difficulty of supplying food to the population. So four industrialists started a great project: to build the world's biggest industrial mill in Paris. In April 1919, 'Grands Moulins de Paris' was born, the company was managed by the Vilgrain family.

The company acquired this imposant building on the banks of the Deule, in 1928. The flour mill was built in 1921 by the architect Vuagnaux who uses a neo-Flemish style. At the peak of the activity, nearly 400 people worked on its premises. In 1965 the wheat and flour silos were built at each end of the building. 60% of the production was destined for the national market, the rest for export. The mill is used until 1989.

During my visit, mostly everything was gone inside, floors were collapsed and everywhere you see graffiti. At some places you can look up 5 levels without seeing one roof or floor, only the concrete structure is left. The buildings are listed as historic monuments in 2001. The site is part of the 2010 urban renewal project. In January 2017, a project to convert the site into housing is announced. This project must be ready in 2020. I visited 'Grand Moulins de Paris' in 2006.