AGC Glaverbel Roux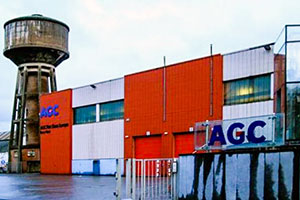 Abandoned: 2015
Visited: 2016
Roux, Hainaut, Belgium
This is the Glaverbel factory, the oldest glass furnace in Belgium. The Roux factory produced glass with an embossed pattern and glass for solar panels. Glaverbel was founded in 1961 in Belgium out of the merger of Glaver S.A. (Glaces et Verres) and Univerbel S.A. (Union des Verreries Mécaniques Belges). In 1972 the French Boussois-Souchon-Neuvesel group gained control over Glaverbel. The company started with a restructuring program and diversified into glass processing in 1974. Glaverbel was the first western industrial company to invest in Czechoslovakia, and in 1997 the first western glass producer to invest in Russia. In 2002, the Asahi Glass Company, or AGC, acquired the whole of Glaverbel.
Patterned glass
Glaverbel Roux already carried out important modifications to its production facilties in 2004, aimed at bringing its output capacity into line with the demand for products in large dimensions. In 2007 the patterned glass furnace was fired up once more after a complete makeover that lasted three months, which was accompanied by renovation of the two production lines downstream from the furnace. In 2009, Glaverbel was renamed AGC Glass Europe.
The production in Roux was closed down in 2015. As a result of the economic recession, the European glass market has suffered heavily from the large-scale imports from China. This led to a big drop in sales prices, which caused the European solar glass industry to collapse. 185 employees became jobless.
Photos AGC Glaverbel Roux