Château César
THE ABANDONED CASTLE IN BELGIUM
'Château César' in Andenelle was built in 1903 by Auguste and his wife Marie César. Originally it was named 'Château de Champnoul', but locals named it after the owners, the César family.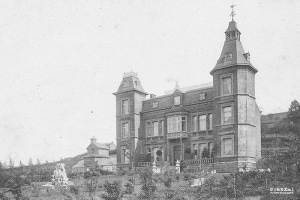 Auguste was a carpenter owning a furniture factory in Verviers. The Chaplains of Labor, or in French Aumôniers du Travail, bought the castle in 1938 to make it an apostolic school. The castle housed three priests.
Magermans Printing
In the 1958 it was bought by Rémy Magermans who owned a printing workshop. Magermans Printing is a well known name in Belgium. The company was founded in the late forties. A decade later it moved to the castle. The chateau itself was used as office and house for the family. Surrounding buildings were used as workshops. The company closed when founder Rémy Magermans died in 2009. The buildings were abandoned until 2017, when the workshops were demolished. The castle will be reconverted. The photos of 'Château César' were taken during my two visits in 2014.