Seniorenbetreuungseinrichtung Am See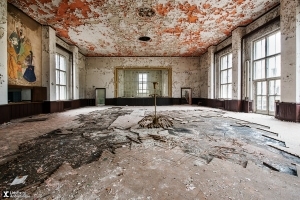 Germany
Built in 1936
Abandoned in 2010
Visited on 09 2016
This old folks home in Germany used to be military grounds. The site was built in 1936, there was a barrage balloon unit stationed here. In 1940 it was transformed into a training department for medical personnel. Until end of World War II the buildings were also as a hospital.
Shortly after the end of the war some of the 38 barracks had been destroyed. The remaining 22 barracks were used as a hospital from 1946 onwards.
In 1948 the nursing home started its business. From 1956 to 1958 some extra buildings were built on the site. Up to 1200 elderly and dependent people were accommodated in the nursing home. In 1990, there were still around 600 people who lived there under the worst possible conditions. In 1990, the then Prime Minister of the DDR Lothar de Maizière visited the nursing home to find out about the bad situations. In 2003 the barracks were demolished, the remaining buildings were in use by several institutions until 2010.