Provinciaal Ziekenhuis Santepoort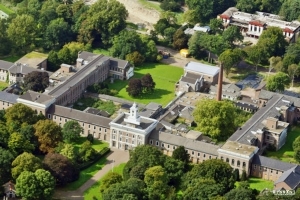 Bloemendaal, The Netherlands
Built in 1849
Abandoned in 2002
Visited on 03 2007
In the early 1800s psychiatric patients were not treated, but locked away with thieves and incurable sick people. In 1841 a new law changed this. In 1849 the psychiatric hospital 'Meer en Berg' was opened to cure the mental sick. This hospital was the first one on the mainland of Europe, it was based upon the English "no restrain" methods were chains and other physical punishments were banned.
In 1918 the name 'Meer en Berg' changed to 'Provinciaal Ziekenhuis Santepoort'. The hospital grew to a big institution with more than 1500 patients and the same number of nurses.
In 2002 the building got abandoned. Some parts of the building are already demolished, the front, a protected monument, will not be demolished.
---
---
---