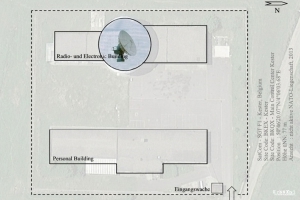 Gooik-Kester, Belgium
Built in 1969
Abandoned in 2012
Visited 03 2014
This is an abandoned Cold War era Satcom (SATellite COMmunications) centre featuring an impressive dome with an enormous dish inside. They were used as a redundant network for satellite communication in case the enemy would strike. This particular site was manned by 30 American radio technicians and delivered coded data to the Nato headquarters, just 25km away.
In the past Nato had 23 Satcom installations, but the technological evolution makes most of them obsolete. The Satcom installation in Gooik-Kester will be one of the two remaining. The other is in Verona, Italy.
The site was demolished in 2014 to make place for a modern communications centre with 4 smaller dishes located in inflatable domes. After rebuilding, the new centre will become one of Europe's main Nato communication hubs.
---
---
---